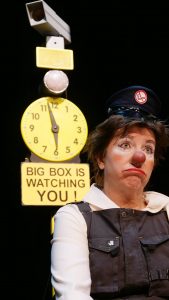 Elisabeth Damian has met her clown many years ago.
First there are small shows : « Camping », an intercultural encounter of three clowns.
Then there will be « Nose from here, nose from there » ( Nez d'ici, nez d'ailleurs ) , a clown cartoon opera.
Then comes the workshop « Clown social actor » and several journeys « Clown in intercultural communication » with Caravan Theater to India.
In 2002, she directed the piece « John and Joe » taken from a text of Agota Kristof.
Then for her comes the time for waiting, considering, seeking (while going on working).
2015 is the year of the encounter with the third kind and the beginning of the transformation into Lizzy Diamond under the kindly eye of the famous American clown Jango Edwards.
But transformation is like a journey.
Being interested, evolving constantly, always moving forward.
Step by step Lizzy explores this parallel world, the clown, who is often identified through his nose (but not always).
She crosses the path of Avner Eisenberg, David Shiner, Paolo Nani, Jean-Pierre Besnard, Dominique Chevallier, Johnny Melville, Jef Johnson, Slava Polunin, Vincent Rouche and many others, tall and small, slim and fat, ugly or handsome, men or women.
And while searching for others she finds herself.
Being a clown means being a misfit. Being out of step one centimeter, or just a few seconds.
Not being there where they expect you but a little ahead or just behind.
Suggesting to the others to turn their head, to trip off their path.
While we create reality with each glance we put on the world, the red nose is the lighthouse which helps us to find the best way to navigate through our life.
Have a nice trip with Lizzy.
Discover the beginning of the journey before Lizzy (silent film)